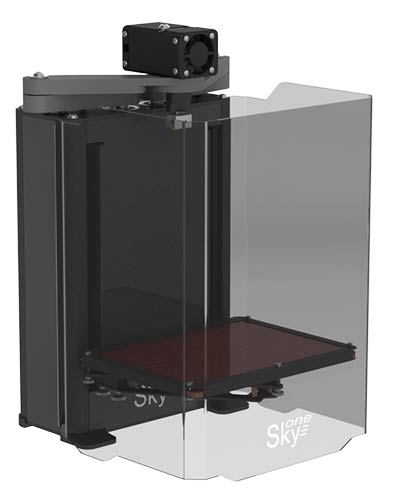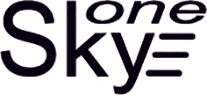 compact
universal
and reliable
3D printer
for 3D printing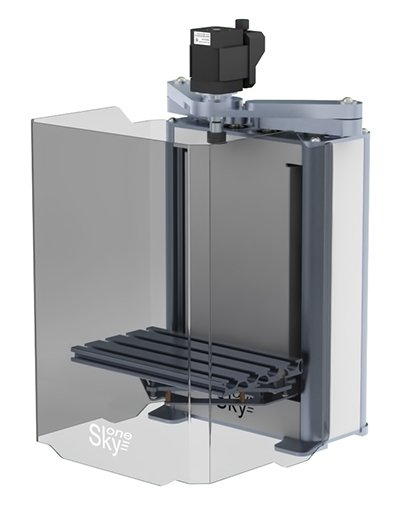 We offer a brand new development in 3D technology world - 3D printer SkyOne. Unlike the most comparable printers, SkyOne provides advanced capabilities for solving of wide range of tasks. SkyOne is a universal machine, which operates as a 3D printer, a graver, milling cnc machine. Due to a detachably-mounted extruder and adaptive design of the 3D printer, it is possible to mount different tools, which suits an application task: spindle, batcher, vacuum gripper, air marker, etc.
Onrush of additive technology led to a high popularity of 3D printing. High grade and fine 3D printing give us ample opportunities. 3D modeling and 3D prototyping are the newest production way for high-quality and low-volume industrial products, three-dimensional displays and figures. 3D printers are widely used in design, construction and industrial fields. A fully-featured copy of a coming development saves time and financial resources, it gives a possibility to avoid inaccuracies and mistakes.
SkyOne - universal and functional 3D printer.
Advantages of SkyOne
Multifunctionality. 3d printer SkyOne it is also an engraving and milling cnc machine
Compactness. Dimensions are 275x250x400 mm with printable area 140x190x200 mm.
High operation speed, fast getting ready to print. A quick-removal extruder of the cnc machine allows rapid preparing the printer for milling or engraving process.
Rich package contents and two color options.
In 3D print shop 3dlaboratorio you can buy a multifunctional 3D printer SkyOne and all necessary consumable products at the favourable price. The main line of our business is production of first-class quality three dimensional printers and sale of processed materials. We are also pleased to offer:
Wide range of 3D materials - we offer great deal of choice of 3D strong and easy-processing plastics.
Printing sprays from a manufacturer.
3D printer parts.
Fast delivery of 3D printers SkyOne and accessories.
Availability of a high quality and fast 3D printer is only a part of the success. Right choice of consumable materials plays a key role in getting result we want to achieve. In the course ofselection it is important to take into accaunt properties and destination of plastics for 3D printing. It is significant that every plastic offers peculiar properties and is suitable for particular spheres of applications. As an example, PLA+ is a biodegradable and perfectly matched for food or medical sphere plastic, while FLEX is resistant to wear, oils an benzine neutral.

We offer 3D printing training for free. We teach our clients 3D technologies and share latest advances in an exceptionally interesting sphere. Free learning is a great opportunity to come in on popular and rapidly growing field of 3D modeling.

Our personnel will help to choose plastic for the any task purposes. Cooperating with our company you get uninterrupted regular supply of 3D printing part for favourable prices.